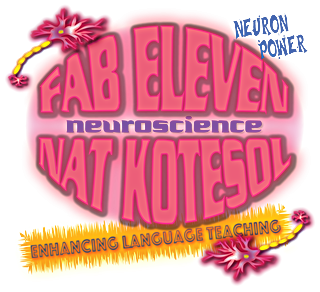 FAB11 & KOTESOL
National Conference 2017
"Boosting the Power of ELT ㅡ FABulously!"
ㅡ Neuroscience for enhancing language teaching ㅡ

.
May 13-14, 2017 (Sat.-Sun.)
Sookmyung Women's University, Seoul


.
Call for Proposals: HERE (Deadline: March 1)
Korea TESOL is bringing FAB11 to our National Conference and to Korea for the first time ever! The FAB Conference Series, originating in Japan, puts on conferences on "neuroELT"; that is, the  findings from neuroscience and their application to English teaching. This may sound very academic, but it is actually very, very practical and provides surprising insights into teaching for the ELT practitioner. KOTESOL is integrating a FAB conference component into our national conference for 2017, giving this two-day event more power to boost our knowledge and skills than ever before.
PLENARY SPEAKERS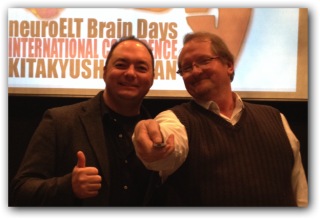 Saturday Morning Plenary Session
ㅡ NeuroELT: How the Brain Learns Languages
Plenary Co-speakers
ㅡ Curtis Kelly (Kansai University, Japan)
ㅡ Robert S. Murphy (University of Kitakyushu, Japan)
Saturday Afternoon Plenary Session
ㅡ Using NeuroELT in the Classroom
Plenary Co-speakers
ㅡ Robert S. Murphy (University of Kitakyushu, Japan)
ㅡ Curtis Kelly (Kansai University, Japan)
Saturday Sessions
Saturday's schedule will include concurrent FAB sessions on neuroELT and KOTESOL sessions on a variety of ELT topics, in addition to the two plenary sessions.
NeuroELT Sunday Workshops
Sunday's schedule will be devoted exclusively to a series of workshop sessions headed by some of the leading authorities in neuroELT.
In addition to our plenary speakers, Curtis Kelly and Robert Murphy, the two-day FAB sessions will include sessions by
ㅡ Ai Murphy
ㅡ Amanda Furutaka
ㅡ Joseph Shaules
ㅡ Marc Helgesen
ㅡ Tim Murphey
and many more FAB regulars. The FAB folks are promising an all-star show!
To submit a proposal to the FAB11 portion of the conference, go HERE. (March 15 deadline)
VENUE & TRANSPORT
Our venue is Sookmyung Women's University in Seoul, the same venue as for our 2016 international conference. Details: HERE.

Check back here for all of the most current information on the upcoming KOTESOL spring conference.