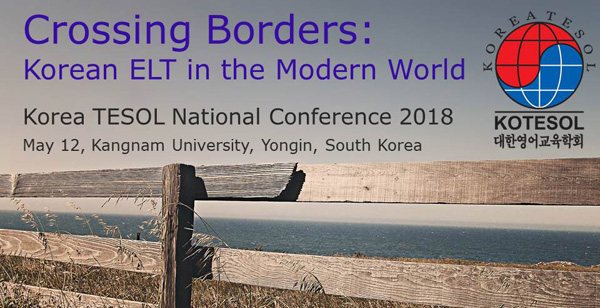 Crossing Borders: Korean ELT in the Modern World
Date:  12 May 2018 (Saturday)
Venue:  Kangnam University, Yongin
Plenary Session: Barbara Hoskins-Sakamoto
"Designing EFL Materials that Work"
Invited Speaker: Dr. Kyung-sook Yeum
"Global Leadership in TESOL and the Pathways"
 
Call for Presentations is OPEN (here)
 
The theme of this year's conference is Crossing Borders: Korean ELT in the Modern World. As educators, we cross professional and personal borders every day. Some of these borders, we have been crossing as a profession since the beginning — others are new, unfamiliar and challenging. In our field of ELT education, everyone has knowledge, skills, and insights that can help others to face their challenges, to cross into new professional territory, to make new discoveries, and to grow. All that is needed is the chance to share what we know. That is the purpose of this conference – to allow professionals, novice and veteran, and from any and all contexts, to share and to learn, for the benefit of everyone.
KOTESOL's National Conferences are for everyone.
Novice teachers and crafty veterans, scholarly researchers and undergraduate students alike are welcomed. KOTESOL is a multinational collection of teachers and researchers, students and language-learners, who meet to share concerns, problems, and solutions, and a collegial gathering. Roughly 1/3 of our members are Korean.
We look forward to seeing you May 12th!
Yes, you can register on the day, at the conference!
 
INFO:
See individual topic pages listed in the right-column menu.
More information will be coming in the weeks ahead.
Email: natconf2018@koreatesol.org