We want to serve you better.
Our member data management system is integrated within this website (with proper security safeguards!) It is important that you maintain your contact information online so we know how to respond to your needs.
Your user-account page ("profile") contains information needed to receive messages from Korea TESOL, to maintain your account on the website (koreatesol.org), and to receive your printed mailings (should you request these). You can also see your recent transactions with KOTESOL, including the expiration date for your membership (if you are a current member, if your membership has expired it will not display the expiration date).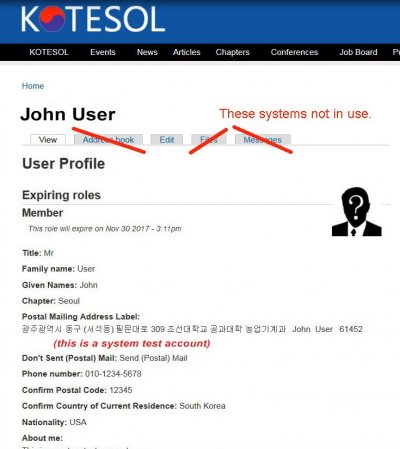 If you are unable to access your account, you will need to re-set the log-in details. http://koreatesol.org/content/reset-your-account
If you do not receive a new temporary password, it may be that there is a problem with email. First, check your spam and other filters. Then, contact the site administrators on the "Contact Us" web contact form (at top of every webpage), tell us your name and your email address. Please note the possible difficulties with email services that don't meet global standards (note #1 below).
KOTESOL does not share our member's postal information with outside organizations, your details are private with us.
The advice listed here are fervent recommendations. Choosing options other than the recommended may result in you not receiving important information.
Use an email account that is compliant with global standards. Gmail, Hotmail, Yahoomail, and many others are fully-compatible with the koreatesol.org website and our various specialized mailing systems (such as Mailchimp for News, Surveymonkey for surveys and votes, etc). Some local service providers, such as Hanmail, Naver, and Daum, do not match global standards and routinely reject email from us. (You can set up forwarding so your international mail service sends your mail to your preferred local service, test it to make sure it works for you!)

Work under the "Edit" tab

-- we do not use the "address book" function.
Be aware of Internet Security! Use 12-character (or longer) passwords, not all the same for your various online activities. (Korean law requires passwords of 10 or more characters.) The koreatesol.org website requires 12 character passwords at minimum.
Complete all areas of your profile fully and accurately. We really do want this data, it aids us in applying for various grants and enables us to better understand the demographics of our membership. It takes you just a moment...
The chapter selection tells us which chapter you plan to attend, and provides membership funds to that chapter. ("International Community" is the selection for members living outside of Korea.)
Be careful with your postal information, be sure to use the new road-name addressing system (doromyeong juso / 도로명 주소) if you are in Korea.

The new doromyeong juso (도로명 주소) road-name addressing system is now mandatory for government services in Korea. KOTESOL can no longer mail to addresses using the "old" postal system (old "dong" addresses do not qualify under bulk mailing services). What we see in the database is what we print -- if your mailing label is wrong, we can't send you your membership benefits.

Include your name in your label.
Use the new Korean road-name address (doromyeong juso / 도로명 주소) if your address is in Korea.
Include your postal code in your label.
Use the new 5-digit postal code.
Enter your Korean address in the Hangeul alphabet if at all possible. For addresses in Korea, addresses written in Korean (Hangeul) will better ensure successful delivery.
Do not use Japanese or other scripts other than English or Korean.
Include Country ONLY IF outside Korea (ALL CAPS please, e.g., JAPAN)

You have seven lines available for your address label. Each line may not exceed 35 English characters (22 Korean blocks). The address that appears in the normal "view" mode of your profile has been machine-rendered for fast viewing, the full and correct information can only be seen in the "edit" panel of your profile. The "view" display may merge lines and delete spaces. We use the full-data as it appears in the "edit" mode.

Sample addresses are shown below.
The "confirm" areas do not replace the information in your label, but make it easier for us to analyze member demographics.

Confirm Postal Code
Confirm Country of Current Residence

Demographic data helps us understand our members' needs and preferences, and assists with reports for grants.

Nationality
Teaching Qualifications
Number of Years in Teaching

You can opt out of receiving hard copies of The English Connection (TEC). Just select "Don't Send (Postal) Mail" in your online profile (the check box just below the "Postal Mailing Address Label").


Examples of New Address / Postal Code
Korean Versions
(English versions further below)
(City / University)
광주광역시 동구 (서석동) 필문대로 309
조선대학교 공과대학 농업기계과
James Jones
61452
(City / Apartment)
광주광역시 동구 중앙로 358
(계림동, 금호아파트) 202동 1103호
Bill Smith
61402
(Rural / University)
전라남도 무안군 청계면 영산로 1642
목포대학교 농학과
Chris Adams
58554
____________________________
(City / University)
James Jones
Chosun University College of Engineering
Department of Agricultural Machinery
Pilmun-daero 309 (Seoseok-dong)
Dong-gu, Gwangju
61452
(City / Apartment)
Bill Smith
Jungang-ro 358 (Gyerim-dong)
Geumho APT 202-1103
Dong-gu, Gwangju
61402
(Rural / University)
Chris Adams
Mokpo University
Department of Agriculture
Yeongsan-ro 1642
Cheonggye-myeon
Muan-gun, Jeonnam
58554