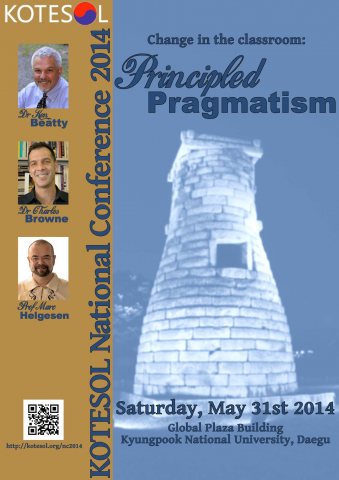 Archive Copy.
"Change in the classroom: Principled Pragmatism"
KOTESOL National Conference 2014
May 31st (Saturday) 2014
Global Plaza Building, Kyungpook National University
Daegu
Featuring

Prof. Marc Helgesen
Dr. Charles Browne
KOTESOL's Reflective Practice SIG
If we hope to see improvements in the quality of English in Korea it has to start from the grassroots.
Change must begin within the classroom, however change for change's sake is a dead end. Too often teachers are sold on new silver bullets to instantly create change.
To assess whether the change is worth pursuing we must look at it through the lens of principled pragmatism. This at its core is us assessing what methodology best suits the individual student needs. It also recognizes that teachers must be skilled in many techniques and methods to create better classrooms for themselves and their students.
The age of formal methods and exotic approaches has passed. Language educators in Korea are expected to produce results without expensive technology, select learner groups, or exclusive learning styles. Instead, teachers are expected to be able to meet the needs of a diverse array of learners in specific time frames with minimal support. Clearly, the time has come to select and utilize the most appropriate tools from the many resources developed over the past fifty years and more, as befits the learners. These are not willy-nilly choices, but carefully assessed based on teacher and learner beliefs, skills, needs, and preferences.
The 2014 Korea TESOL National Conference will highlight pragmatic classroom designs that derive from teachers' carefully-honed principles of language learning. While perhaps deriving from the theme of "intelligent eclecticism," the focus here includes limitations on teacher time and classroom resources.
Conference Pre-registration offers a significant discount to registering on the day of event. Pre-registration is available April 16 - May 15.
Confirmed presenters come from Malaysia, Singapore, Thailand, Turkey, Arab Emirates, Japan, Australia and the United States as well as Korea. More than 50 presentations across eight hours.
The Program Book is now available!  http://koreatesol.org/sites/default/files/nc2014-book-web.pdf
Check our pages in the menu (right, or below, depending on your device) or click these links for information on the Invited Speakers, Concurrent Sessions, Directions to the venue, Registration, the Day's Schedule, and more.
More information coming soon.
Download the Conference Poster!  http://koreatesol.org/nc2014/Poster
 
You may contact us at natcon2014@koreatesol.org