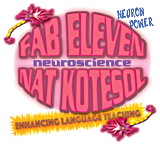 FAB11 & KOTESOL National Conference 2017
Boosting the Power of ELT ㅡ FABulously!
.
Archive Copy.
Call for Proposals
KOTESOL is presently accepting proposals for the FAB11 & KOTESOL National Conference 2017.
KOTESOL is accepting presentation proposals on all ELT-related topics for its concurrent session slots.
(Note: The FAB11 component is conducting a separate call for proposals on neuro-ELT topics for its concurrent session slots. For more FAB information, go to: HERE.)
Total proposals that may be submitted to the conference ㅡ KOTESOL and/or FAB ㅡ is limited to two (2).
Proposal Submission Deadline:

March 1, 2017. (Now Closed)
.


Topic areas: Any area related to ELT. (Please note: FAB is accepting neuro-ELT proposals separately. Submit a proposal to one, not both.)
Presentation Length: 20 or 45 minutes.
Presentation Format: Workshop, demonstration, talk, or research report.
Abstract Length: 200-250 words. // Bio-sketch: 75-100 words
Abstracts should be mainly devoted to a precise decription of what will be presented and how.
[ Note: In addition to the abstract and bio-sketch, include requested presentation length and presentation format in your proposal.]
Email proposals as DOCx or DOC files to: NatCon2017@koreatesol.org
The same proposal should not be presented to both the KOTESOL and FAB calls for proposals.
Important Dates
ㅡ January 1 - March 1: Call for Proposals
ㅡ March 31: Notification of proposal review results
ㅡ April 1 - May 5: Pre-registration
ㅡ May 13-14: Conference
FAB11 & KOTESOL National Conference Main Page: HERE.
Visit the FAB website: HERE.
Boo

sti

ng

the

P

ow

er

of

ELT