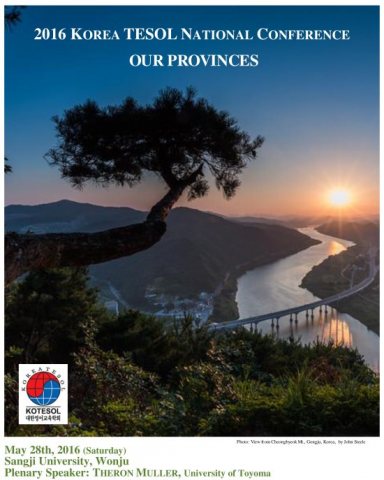 Archive Copy.
Program Book Available!
Date:       28th May 2016 (Saturday)
Venue:    Sangji University, Wonju
Theme:   "Our Provinces"  (referring both to the field of ELT/education, and the geographic locales we work in)
Plenary Session:  Connecting the provinces in ELT research – Making the local visible globally (Theron Muller, University of Toyama)
The theme of this year's conference is Our Provinces.
First and foremost, the theme refers to ELT's various domains of expertise (from SLA to classroom management). Additionally, the theme refers to the 9 provinces of Korea (along with the 'Special Cities' that share the same administrative standing). Here, we look for participation by KOTESOL members from as many provinces as possible, in order to share information and foster a sense of national community.
KOTESOL's National Conferences are for everyone.
Novice teachers and crafty veterans, scholarly researchers and undergraduate students alike are welcomed. KOTESOL is a multinational collection of teachers and researchers, students and language-learners, who meet to share concerns, problems, and solutions, and a collegial gathering. Roughly 1/3 of our members are Korean.
Wonju is Located at the junction of east-west and north-expressways, it allows easy train, bus, and car access to the city from Seoul and all points south.
We look forward to seeing you May 28th!
Yes, you can register on the day, at the conference! Info.
Email: natcon2016@koreatesol.org
 
Program Book!
Download the PDF version of the full and complete Conference Program Book to your mobile device or computer and use the Bookmarks function to find each presentation, sorted in presentation order. (Or you can resort to alphabetical on some PDF readers.) Or read the online version.