By Webeditor National Conference on November 25, 2013 - 11:51am | Reads | News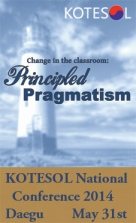 Archive Copy.
The Call for Presentations for KOTESOL's 2014 National Conference is now open.
"Change in the Classroom: Principled Pragmatism"
Saturday, May 31st 2014
Global Plaza, Kyungpook National University
Daegu
Our goal for this year's event is to explore Principled Pragmatism in both the Korean and Global ELT settings.  The theme means that we are not committed to a single theory or aspect associated with the SLA process.  Instead, we choose to explore how problems, issues and challenges are dealt with in real teaching contexts using a divergent range of methodologies, strategies and techniques.
The Call for Presenters (print notice) is available at http://www.koreatesol.org/sites/default/files/nc2014CFP-print.pdf
The Webform is available at http://www.koreatesol.org/nc2014CallForPresenters (form is closed)
We look forward to a diverse range of topics, approaches, and presenters.
The Closing Date for this Call for Presentations is March 12th (Wednesday) 2014.