By Webeditor Publications on October 1, 2016 - 3:47am | Reads | News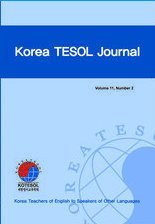 The Korea TESOL Journal (Volume 12, Number 1, 2016) is now available online for reading and downloading by our KOTESOL membership -- chocked full of interesting research on ELT related to the Korean context. Student perceptions of group work, LTOs, ER and KSAT scores, custom-designed games, "contentious" video, and much more -- ten papers in all, with three book reviews. View the table of contents and/or download your copy: HERE.
View all issues of the Korea TESOL Journal HERE.
Print versions (hardcopies) of this volume will be available to members upon request, free of charge, through December 31, 2016. Send your request for your member copy along with complete postal mailing address (for Korean addresses, include: new "street-name" address and new 5-digit postal code, preferrably in Hangeul) to: publications@koreatesol.org