By Webeditor Yongin on October 4, 2017 - 12:59pm | Reads | News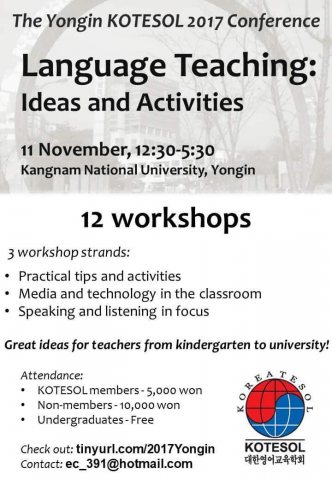 The Yongin KOTESOL Conference Committee announces the 2017 conference and following social gathering will be held on November 11th at Kangnam University, in Yongin City, Gyeonggi-do. This year's theme is "Language Teaching: Ideas and Activities".
The cost of attendance is a reasonable 5,000 for KOTESOL Members and 10,000 for non-members. Also, current students who are training to be teachers, especially those who intend to be language teachers, are encouraged to attend and will be admitted for free.
For further details, please see the information below, check out our Yongin Chapter Homepage and if there are questions don't hesitate to contact us. 
When: November 11, 12:30 p.m. – 5:30 p.m.
Where: Kangnam National University, Yongin-si
Why: Great ideas for teachers who will instruct learners from kindergarten to university.
Cost: KOTESOL Members, 5,000 won;
Non-member guests: 10,000 won;
Undergraduates: Free