Webeditor Yongin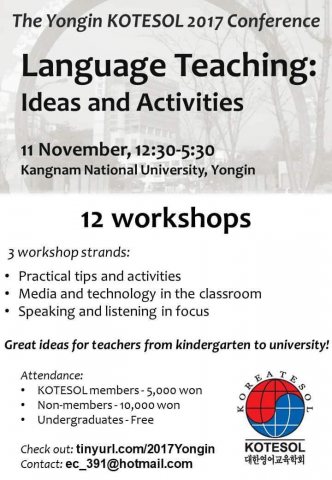 Date:
Saturday, November 11, 2017 -
Location:
Kangnam University (Yongin)
111 Gugal-dong, Giheung-gu
Yongin
,
Gyeonggi-do
South Korea
Gyeonggi-do KR
The Yongin KOTESOL Conference Committee announces our annual gathering will be held on November 11th at Kangnam University, in Yongin City, Gyeonggi-do. Our theme this year is intentional and straight forward: "Language Teaching: Ideas and Activities"
Conference Landing Page including Booklet with Speakers and Abstracts
WHO: You!
We are hosting this event to help teachers. Come for an afternoon to learn tips, ideas, and grow as professionals. We want you to be as effective as possible. We have 12 Workshop-sessions being led by experienced teachers from a variety of backgrounds. These educators are not just presenters – they are committed mentors, friends, and life-long learners who want to help you become the best possible ELT (English Language Teacher). As a chapter, our goal is to continue our tradition of engaging, insightful conferences in order to provide you with inspiring ideas and awesome activities you can use while teaching.
When: November 11, 12:30 p.m. – 5:30 p.m.
Where: Kangnam National University, Yongin-si 
Directions can also be found on our chapter page, click here.
Why: Great ideas for teachers from kindergarten to university.
How much: KOTESOL Members, 5,000 won;
Non-member guests: 10,000 won;
Undergraduates: Free
Additional Contact information: President Martin Todd, email: martinhtodd(at)gmail.com