By Webeditor Publications on September 13, 2017 - 2:26am | Reads | News
The English Connection, Autumn 2017, the pre-conference issue of TEC is now online for your reading pleasure. A great preview of the October 21-22 International Conference. Start off with a conference overview by our conference chair and co-chair, Sean O'Connor and Kathleen Kelley. Read articles by our plenary speakers, Andy Curtis and Nicky Hockly. Enjoy interviews with four of our featured speakers: Glenda Rose, Ted O'Neill, Kathleen Kampa, and Kalyan Chattopadhyay. Find out what the 20 sessions are about that our invited speakers will be presenting.
And more!
Don't wait. Don't hesitate. Click HERE. Click NOW.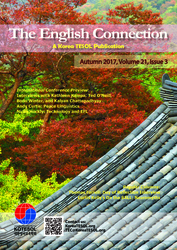 ---