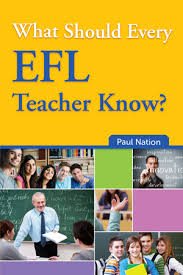 At the Professional Development SIG meeting (Saturday, 2pm at the International Conference) we agreed to start a new book.
What Should Every EFL Teacher Know?
Paul Nation, Shengyi Lee and Hieram Weintraub
Compass Publishing (Mar 1, 2013)
This is NOT the free book What Should Every ESL Teacher Know? by the same Paul Nation. (The ESL book is a free download, but not at all the same book.)
A few of us bought the book from the Compass stand at the conference (though they did not bring it Sunday as planned, they are sending via post this week).
You can contact Compass to order direct at info@compasspub.com
You can purchase the Kindle edition at Amazon. http://amazon.com/dp/1599662663/
You can read the first chapter online as a Preview of the Kindle edition.
Let's plan (tentatively, until we determine the Reading Circle facilitator) to read the first chapter and post on the Yahoo Group by October 25th (Friday), with comments on those postings Saturday and Sunday (and following).  As before, please do not read others' comments before you have read and posted, so we have "fresh" posts. I will provide more opportunity for discussion and eye-openers (i.e., we learn from each other) if we post fresh rather than allow others' comments to influence our reading.
The yahoo group is at http://groups.yahoo.com/groups/KOTESOL_PD_SIG/
You must be a member of the group to post messages there. You do not need a yahoo email to join yahoogroups.  You can join at the site, or send an email to kotesol_pd_sig-subscribe@yahoogroups.com to join the group. You can choose to recieve each posting as an individual email message, read digests (collections of messages), or not receive most messages (read on the site).
Post your message via the site (form), or send email to kotesol_pd_sig@yahoogroups.com (only from the email address you have registered on the yahoogroup).
Please start your Subject line as follows:     Nation-(chapter #) with no space
Example:
Nation-1
This way all messages will be properly threaded by subject.