By Webeditor International Conference on October 6, 2013 - 8:07am | Reads | News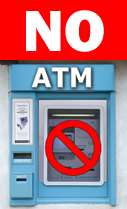 Unfortunately, there is no ATM (bank machine) on the Sookmyung campus.*
KOTESOL cannot accept credit or debit cards for your conference registration or membership dues.
We srongly recommend you visit the bank on the way in - there are several banks on the way from the subway stations.
(Although many book vendors will accept credit cards, some smaller shops might not be able to away from their physical home store.)
* there is a small machine on the 2nd campus (across the street) but it quickly runs out of cash.