By Webeditor Publications on May 30, 2016 - 11:44pm | Reads | Publications

The English Connection (TECv20n2) Summer 2016

.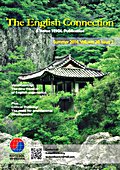 TEC 20-2 (Summer 2016)
Contents include:
Editorial – by Julian Warmington
President's Message – by Lindsay Herron

Features
Volunteering Your Students
– by Nancy Harcar
Activate Critical Thinking
– by Scott A. DeWaelsche
A Montessori-Style Team Study Activity
– by Stewart Gray
Short Stories and L2 Learners
– by Tyson Vieira
The Importance of Professional Development
– by Steven Schuit, John Healy, & Katie Connors

Columns
"Who I Am Is How I Teach": The Mindful Teacher
– by Thomas S.C. Farrell
KOTESOL People: Introducing Ian Done Ramos
– by Julian Warmington
Book Review: Classroom Management Techniques
– by Neill Porteous
Course Review: Oklahoma City University OKTESOL Program
– by Katie Jiyeon Lim
PDF Viewing
For magazine-style, overall view, set your PDF reader to:
1. Fit Page
2. Facing (Pages)
3. Separate Cover Page
Suggested PDF Readers: Adobe Reader, Foxit Reader.
Enjoy the Summer TEC wherever you are this summer – online or in hand.