Webeditor_Sig Reflective Practice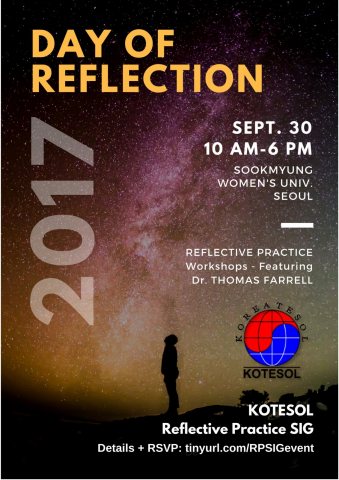 Date:
Saturday, September 30, 2017 (All day)
Location:
Sookmyung Women's University
Seoul
South Korea
KR
You Are Invited
The Reflective Practice SIG invites you to join us for our Day of Reflection 2017. We have a full day of fantastic Reflective Practice workshops planned, with special VIP presenter Dr. Thomas Farrell.
Venue
10 am ㅡ 6 pm, Saturday, September 30, 2017
Sookmyung Women's University, Seoul
Second Campus, Room B178 (Ground level)
Admission / Registration
It's free, but please RSVP and let us know you're planning to attend!
(Also, let us know if you are interested in attending an informal dinner afterwards.)
RSVP here.
Schedule
A full schedule and more information available from the Day of Reflection 2017 information page.
Schedule PDF: HERE.
Interview with Dr. Thomas Farrell
Read our interview with Dr. Farrell. Find out more on his work, his life, and his connections with Korea TESOL: HERE.
---
The KOTESOL Reflective Practice SIG wishes to thank Sookmyung Women's University and its Sookmyung TESOL program for venue support for this event.


---