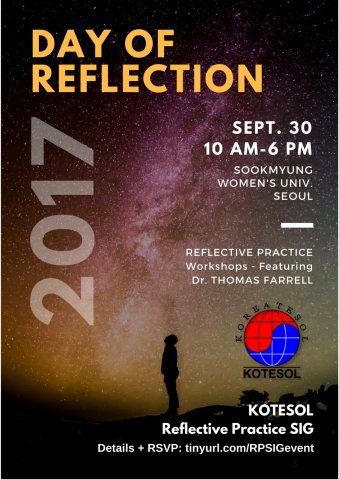 Reflective Practice Workshops ㅡ Featuring Dr. Thomas Farrell
September 30, 2017 (10:00 am ㅡ 5:50 pm)
Sookmyung Women's University, Seoul
The event schedule can be found on the Schedule page: HERE.
Schedule PDF: HERE.
The presenters' presentation abstracts and bio-sketches will be available on the Schedule page: HERE.
Admission is free, but please RSVP for Day of Reflection 2017 on the Event page.
A recent interview with Dr. Thomas Farrell by the Reflective Practice SIG is available HERE.
---
Check back regularly for additional information about the event, sessions, and presenters!
---
The KOTESOL Reflective Practice SIG wishes to thank Sookmyung Women's University and its Sookmyung TESOL program for venue support for this event.


---