Webeditor Busan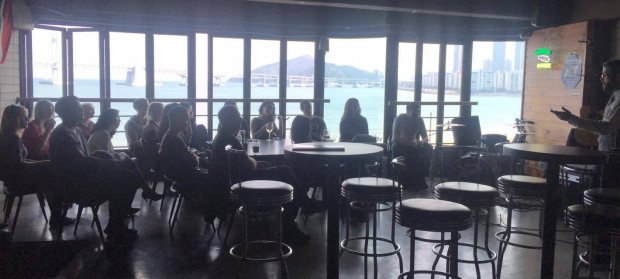 This May, KoTESOL will be much more discussion-centered. We're also starting earlier to give you more beach time after the meeting :)
First, Rhea will lead a discussion on Travel: Where is Home?
about language, culture, and identity
Then, we will have a teacher's Roundtable. This means we want to hear from YOU. Bring any/all of the following:
-An activity/game you love
-A problem that's driving you up the wall (students/colleagues/etc)
-A question about the English language
-A half-finished idea 
-A longing to listen and help your fellow KoTesol teachers!
Schedule: 
1:30 Sign in
2:00 Rhea's "Where is Home?" 
3:00 Break
3:10 Teacher Roundtable
4:00 Finish
DIRECTIONS: 
HQ Bar is located on Gwangali beach.
Gwangan station Exit 3. U-turn and make a left at the corner walking toward the beach.
Once you get to the beach turn left. HQ is on the 4th floor of the third building. (The same building as 오꾸닭 and Burger & Pasta)