By Webeditor_Sig CT on June 15, 2015 - 5:13pm | Reads | News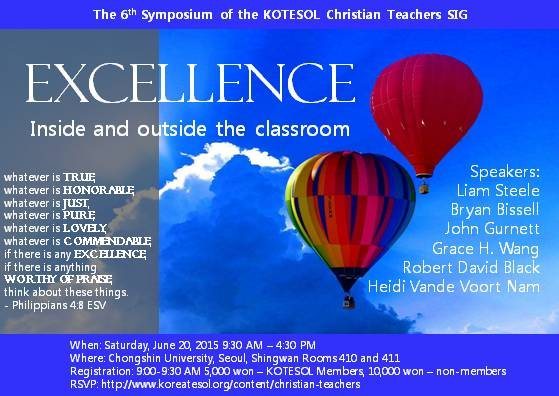 You are welcomed to join at the 2015 KOTESOL Christian Teachers SIG annual symposium. See more at http://www.koreatesol.org/content/christian-teachers.
The 6th symposium of the KOTESOL Christian teachers SIG will provide opportunities for Christian fellowship and networking as well as presentations on the following topics: character education, motivation, student health, vocabulary learning strategies, and teaching pronunciation.
Symposium Theme: Excellence Inside and Outside the Classroom
Date: June 20th
Registration: 9:00-9:30 am
Chongshin University
143 Sadang Ro, Dongjak Gu, Seoul
5,000 won - KOTESOL members, 10,000 won - non-members, payable at the door - we ask you sign our Guestlist (reservations) so the proper amount of food and drink can be prepared.
See more at http://www.koreatesol.org/content/christian-teachers