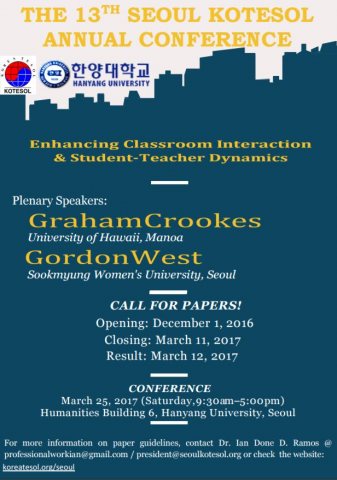 The 13th Annual Seoul KOTESOL Conference
Pre-Conference Registration available through March 24th.
Welcome to the 13th Annual Seoul KOTESOL Conference!
This year's conference theme, "Enhancing Classroom Interaction and Student-Teacher Dynamics," covers various classroom practices implemented in South Korea and may be relevant in other parts of the world. As such, the conference, through the various workshops and plenary sessions, aims to gather KOTESOL members, friends, students, and guests to share practical classroom experiences, new ideas leading to better professional and academic standards.
Conference presentations have been well prepared to give justice to why we all came today. Graham Crookes will tackle the aspect of professional values which are instrumental in achieving a critical pedagogy and directing us to how best it can be implemented. On the same wavelength, Gordon West will discuss how teachers can perform social justice teaching by means of critical pedagogy and critical literacy that will lead us to democratic decision-making, content formation, solutions for future change, etc. Finally, with a variety of workshops today, we will be able to examine ourselves how far we have applied theories and principles of teaching-learning interaction in our classroom, and allow us to reflect on how much difference we want to make in our classrooms in order to benefit our students.
Now you can download the full conference program book!
See you all at the conference!
Ian Done D. Ramos, Ed.D.
President, Seoul KOTESOL
Chair, The 13th Annual Seoul KOTESOL Conference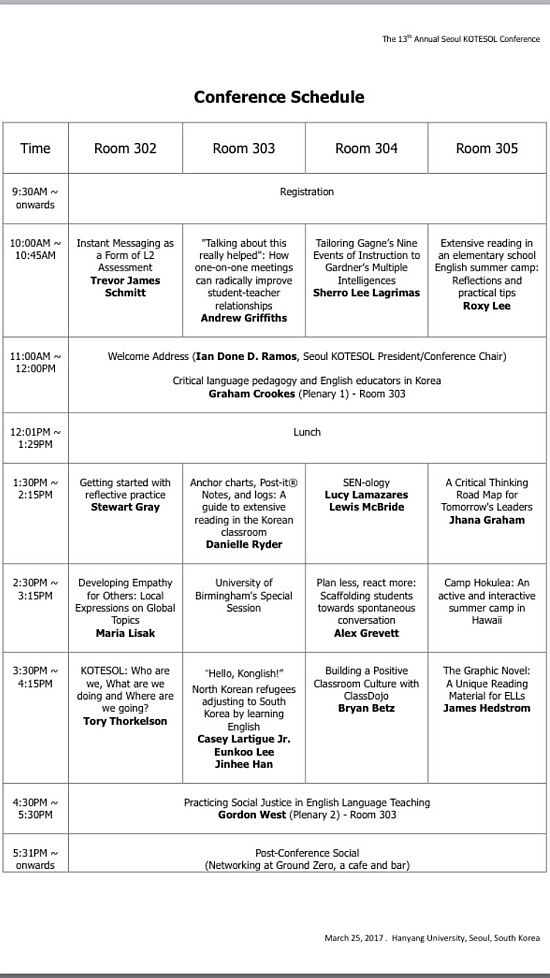 Venue and Directions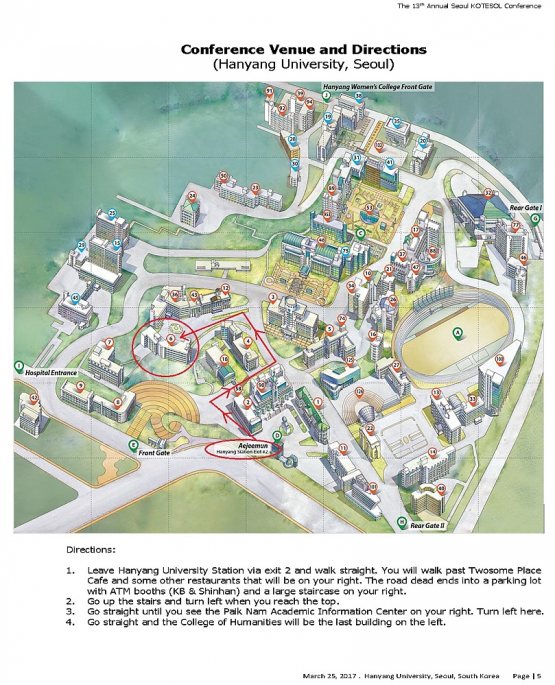 Hanyang University Campus
Directions:
1. Leave Hanyang University Station via exit 2 and walk straight. You will walk past Twosome Place Cafe and some other restaurants that will be on your right. The road dead ends into a parking lot with ATM booths (KB & Shinhan) and a large staircase on your right.
2. Go up the stairs and turn left when you reach the top.
3. Go straight until you see the Paik Nam Academic Information Center on your right. Turn left here.
4. Go straight and the College of Humanities will be the last building on the left.
 
Conference Fee (Won): Student & Member, 10,000 / Non-member, 20,000
Contact: professionalworkian@gmail.com or president@seoulkotesol.org
We would love to have you join us afterwards too for a Post-Conference Social!