By Webeditor Publications on February 6, 2017 - 11:38pm | Reads | News
The Korea TESOL Journal (Volume 12, Number 2) is now available online for reading and downloading by our KOTESOL membership ㅡ brimming with interesting research on ELT related to the Korean context. NNEST and NEST autoethnographies, NNESTs at hagwons, restructuring L2 teacher education, strategy training, principled eclecticism, and much more ㅡ ten papers in all, with three book reviews. View the table of contents and/or download your copy: HERE.
View all issues of the Korea TESOL Journal: HERE.
Print versions (hardcopies) of this volume will be available to members upon request, free of charge, through May 2017. Send your request for your member copy along with complete postal mailing address (for Korean addresses, include your new "street-name" address and new 5-digit postal code, preferrably in Hangeul) to: publications@koreatesol.org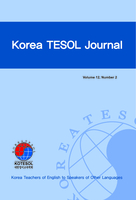 Dr. Kara Mac Donald: Editor-in-Chief
Dr. David E. Shaffer: Publications Committee Chair & Associate Editor
Prof. James Kimball: Book Reviews Editor