By Webeditor Jeju on July 4, 2015 - 4:39pm | Reads | News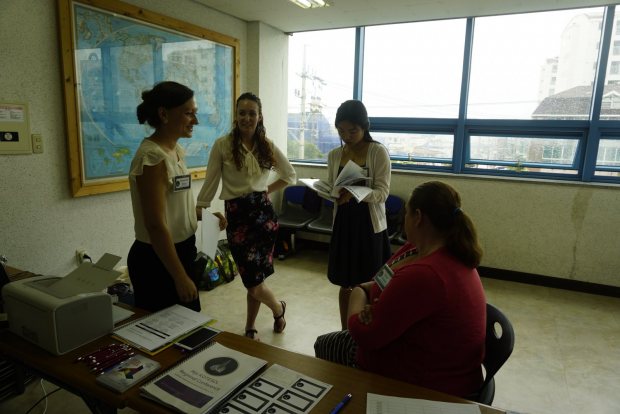 Jeju Chapter June Regional Conference
On Saturday, June 27th, 2015 the Jeju Chapter KOTESOL held it's first regional conference themed, Blending Tradition with Innovation.  It was hugely successful thanks to the wonderful presentations.
It's safe to say that those in attendance got what they came for, as I certainly did.   Presentations included Audio and Visual Projects for EFL Classroom (Tim Thompson), Evolved Pragmatic Tasks in the EFL Classroom (Damon Morelli), Kor-iculum:  Integrating Korean Culture into the ESL Classroom (Jessica Bennett), Games in the ESL Classroom (Troy MacLellan), Creativity in the classroom (Brian Dean), Kinesthetic Lessons (Harold Dale), Utilizing Audio Podcasts (John Breckenfeld) and of course Tech. Tools for Adding Audio-Visual Elements to Conversation Class (Lindsay Herron) and Differentiated Instruction and Graphic Organizers for Speaking Activities (Peadar Callaghan).
Personally, I ran out of space for notes at the back of my workbook.  It was easy to see that the presentations were well thought out and quite useful depending on classroom dynamics, grade level and specific subject matter.  As an elementary school teacher, I found that the Differentiated Instruction and Graphic Organizers for Speaking Activities were incredibly helpful.  Furthermore, Kor-iculum: Integrating Korean Culture really set the tone for maximum student engagement.
We hope that those in attendance got more than what they came for and are enthusiastic about their students meeting their learning objectives in the EFL classroom here in Jeju Island, South Korea.
We, the executive officers are immensely thankful for the 6 presenters, Tim Thompson, Jessica Bennett, Troy MacLellan, Brian Dean, Harold Dale, and John Breckenfeld as well as the presentations from National Vice President of Korea TESOL, Lindsay Herron and President, Korea TESOL, Peadar Callaghan for you contributions and continued support.
By:  Nailah Rivers