Webeditor Gwangju

Date:
Saturday, March 11, 2017 (All day)
Location:
광주교육대학교 (교사교육센터)
61204
Gwangju
,
Gwangju Metropolitan City
South Korea
Gwangju Metropolitan City KR
Gwangju-Jeonnam KOTESOL
Annual Regional Conference
March 11, 2017
Gwangju National University of Education
Teacher Training Center
Pre-Registration: Feb. 25 - March 8. Register online: HERE.
STEPPING UP
In an Increasingly Connected World
.
The conference theme is designed to address the realities of the world we live and teach in.
The technology now available and even required for teaching has grown significantly in the past decade and will surely continue to grow. It is becoming an integral part of ELT in Korea, and has the power to create innovative teaching materials and even bring together individuals who were once worlds apart.
As teachers, we must properly address this digital aspect of our lives. "Stepping Up in an Increasingly Connected World" aims to examine how we can best take advantage of the digital realities around us to benefit our teaching and professional development. And much more! Join us for an informative, insightful, and indeed, invaluable conference!
PLENARY SPEAKER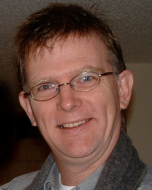 Dr. Eric Reynolds
TESOL-MALL Director, Woosong University, Daejeon
"Technological Advances Require Great Teachers: You Take the High Road, I'll Take the Low!"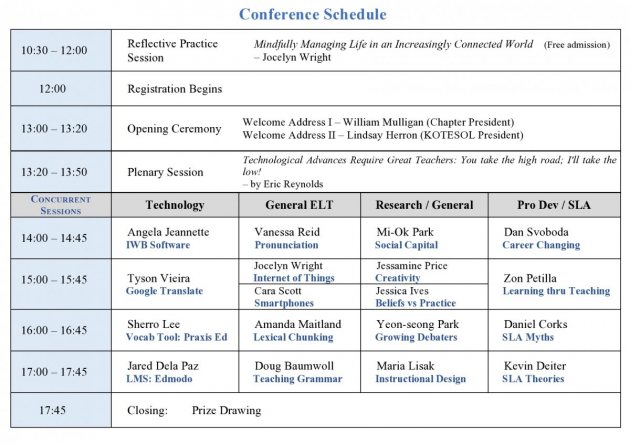 Rooms
Registration: Lobby ㅡ Reflective Practice Workshop: 81B ㅡ Plenary Session: 835 ㅡ Closing: 811
Technology: 811 ㅡ General ELT: 812 ㅡ Research/General: 813 ㅡ Pro Dev / SLA: 814
ㅡ Conference Schedule attached at bottom of page as PDF file.
2017 Gwangju-Jeonnam Conference Information Page: HERE
Call for Presentation Proposals
Open thru Feb. 15: HERE. (Now Closed.)
Web-Form (Open thru March 8): HERE.
2017 Gwangju-Jeonnan Conference Information Page: HERE.