By Webeditor Publications on March 4, 2016 - 10:14pm | Reads | Publications
The English Connection (TECv20n1) Spring 2016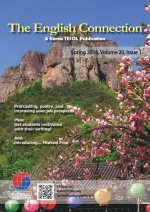 TEC 20-1 (Spring 2016)
Contents include:
Editorial — by Julian Warmington
President's Message — by Lindsay Herron

Features
Topics, Choices, and Motivation in the Writing Class
— by Tim Self
Experiential Advice for Improving Job Prospects
— by Karl Hedberg and Paul D. Tanner
Creative Writing with Sijo
— by Michael Free and Yuri Angie White
So, What Are Discourse Markers, Anyway?!
— by Andrew White

Columns
Contemplative Practice: From "Letting Go" To "Letting Come"
— by Thomas S.C. Farrell
KOTESOL People: Introducing Michael Free
— by Julian Warmington
Course Review: My Macquarie University Experience
— by Eric Fileta
Book Review: Academic Written English
— by Angela Guanying Wu
PDF Viewing
For magazine-style, overall view, set your PDF reader to:
1. Fit Page
2. Facing (Pages)
3. Separate Cover Page
Suggested PDF Readers: Adobe Reader, Foxit Reader.