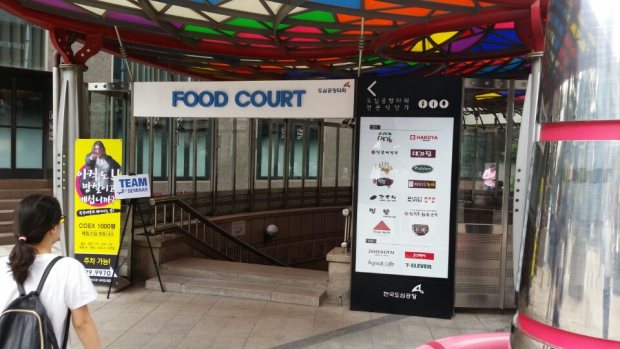 Archive Copy.
You've probably heard that the Food Court in COEX Mall is closed for rennovation. True!
But there are lots of meal options in and around COEX. Including Food Courts. McDonalds. Chicken+Beer.
The 59 page PDF file linked here is from COEX (via Dropbox). http://tinyurl.com/mf3gbdq
The KOTESOL Cafe will have hot coffee, tea, and cool water, breads, pastries, fruit, cookies, chocolates.... The KOTESOL Cafe is around the corner from Hall E, near the ELT Exhibitions (Publishers' & Schools' Displays) area.
Most food services are best accessed via the West Gate of COEX (i.e., the back door opposite the Main Entrance).
Immediately outside the West Gate, just look to your right, is the Underground Food Court of City Airport Towers. The entrance is displayed at top of this page. Some photos of menus are presented at bottom of the page (apologies for casual phone-camera pix).
Along the road outside the West Gate are numerous "Chicken & Beer" type shops.
Head off to the left along this road (in the general direction of Samseong Subway Station/Line 2 for Hyundae Department Store, which has a number of places, including a basement-level food court. Near the Department Store is McDonalds. Rumor has it there is an Outback and a Bennigans...
City Airport Tower Food Court
(listed roughly in price range, high to low, see menus below)
Daega Jip (Korean "Gogo" restaurant)
Delhi Curry Restaurant
Hakoya Japanese Ramyeom and Donburi (topped rice dishes)
Jeonju Bibimbap
Myeongka (Korean fast food)