By Webeditor Jeju on April 26, 2013 - 9:04pm | Reads | Publications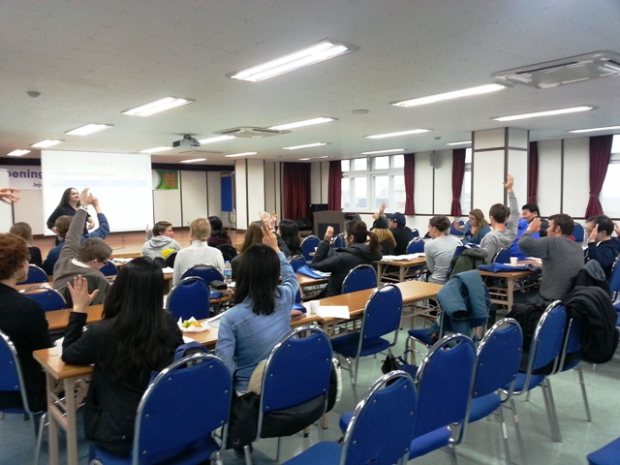 By Alexis Oesterle
Teachers on Jeju Island looking to spice up their classroom were given the opportunity to observe some creative ideas in play at a workshop hosted by the Jeju Chapter of KOTESOL (Korean Teachers of English as a Second Language) on Sat. April 6.
Guest speaker, Sara Davila led a group of 37 ESL teachers in demonstrating some creative ways to allow for more communication in the classroom. Laughter was prevalent as teachers, enjoying themselves on a rainy Saturday, let loose a little while participating in a number of activities designed to demonstrate ideas that will have students thinking "outside the box."
Teachers interviewed before the conference had the same response when asked what inspired them to come: each was looking for new ideas to take into their classroom environments. One such teacher, Petra Eastaugh, had this to say after the conference: "I was particularly interested in her [Sara Davila's] take on creative thinking as a skill that can be taught, exercised and practiced and owned. I hadn't thought of it like that."
The Jeju Chapter has been trying to revive itself and its numbers in recent months. This workshop was the first of four for the 2013 year. Interested parties are urged to follow the Chapter on facebook ("KOTESOL Jeju Chapter") or their website (www.kotesol.org) to find out about future activities. If you are interested in more information on the Guest Speaker or some of her creative ideas, please visit www.saradavila.com.