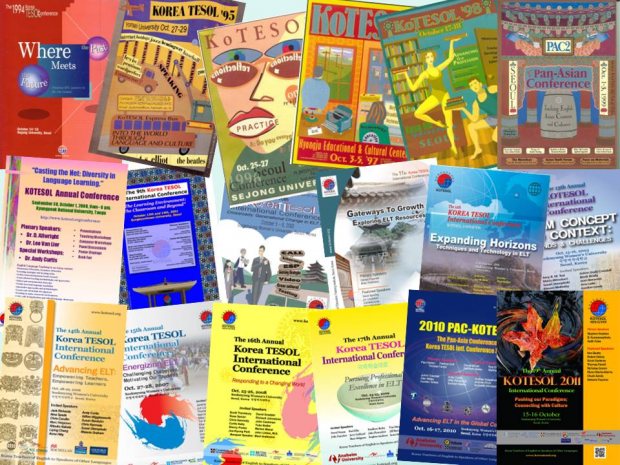 CALL FOR DESIGNS!
KOTESOL members have talents beyond teaching. The history of KOTESOL has been of volunteerism, encouraging members to use talents that may be under-utilized for the benefit of the teaching community.
We are looking for illustrators/designers to contribute their ideas and talents.
Are you ready to design the next KOTESOL International Conference Poster?
The theme for the 2015 Korea TESOL International Conference will be "Transitions in Education, Transitions in ELT". This reflects a general and gradual move in education from a knowledge-transfer approach to an inquiry-based approach.  In the conference we will explore how the ELT community can keep in step with the changes or even lead the way. The 2015 Conference will also continue the overarching theme of "Creativity" from the 2014 program.
Deadline for Submission - September 14th, 2014
 
---
Submission Guidelines
Print-quality design in the A3 format (297 x 420mm), portrait (tall) orientation, 600 dpi or more
Provides area for inclusion of sponsors' logos and names of major presenters
File format in Adobe Illustrator or .EPS (or contact us about other editable formats)
Inclusion of the KOTESOL logo (contact us for print-quality logo)

 
Prize
-- Lifetime KOTESOL membership, 2014 and 2015 International Conference fees waived, winner and poster appear in KOTESOL media
 
Evaluation Rubrics (criteria)
-- Representative of KOTESOL & the teaching profession
-- Reflects the conference theme
-- Artistic and Communicative effectiveness
 
More Information
-- Contact for further information and submissions:  Rob Dickey Email 2015poster@koreatesol.org
For a few ideas, see past conference posters at http://koreatesol.org/posters-past-conferences (but we aren't limiting you to what has been done!)
Only members are eligible for prizes (though non-members may submit designs).
 
Ownership
All submissions become the property of Korea TESOL. Designer's name can be inserted in poster after acceptance. KOTESOL retains the right to make alterations consistent with the aims of the organization and needs for recognition of sponsors and participants.
 
Disclaimer - KOTESOL retains the right not to accept any of the submissions, to require modification to submissions as part of acceptance, or to outsource the poster design if no design is selected.