Webeditor Seoul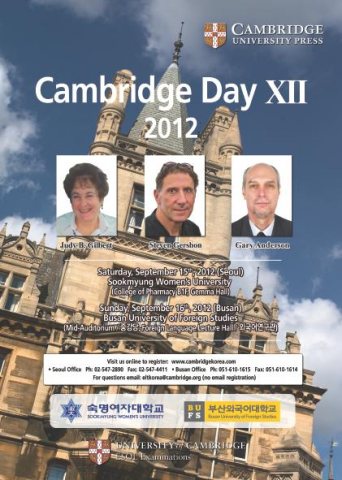 Date:
Saturday, September 15, 2012 (All day)
Location:
Sookmyung Women's University Main Campus
South Korea
KR
This year Cambridge University Press' "Cambridge day" falls on our chapter's regularly scheduled Workshop day. As such Seoul KOTESOL is going to organise a group of interested members to go to the event. 
Cambridge day is an excellent opportunity to browse CUP's growing selection of ESL / EFL teaching resources and to get good deals and discounts as well.

If you would like to attend as part of the Seol KOTESOL group please fill in the form linked to HERE.  BEFORE Friday 7 September

This will allow you to get not only entry into the event, but also snacks on the day and a certificate of attendance mailed out to you direct from Cambridge. (Seoul Chapter will also keep a note of your attendance for our own professional development certificate awards at the end of 2012)

From Cambridge:
Once again, there will be lots of presentations from our authors, snacks, books, prizes- ALL FOR FREE as a token of our appreciation for your support over the years.
Please visit our website to see more details: www.cambridgekorea.com
Presentations:
Steven Gershon "From Brainstorm to Composition: It's the Process" 
Gary Anderson "ELT in(to) the Digital Age: Technology to teach and learn" & "Which comes first: the chicken or the egg?: Language development or exam training?"
Judy B. Gilbert "Teaching Pronunciation Using the Prosody Pyramid" 
Date & Time:
Cambridge day 2012 in Seoul
Saturday, September. 15th 
College of Pharmacy B1F, Gemma Hall
Sookmyung Women's University
12:00 pm - 4:55 pm
If you have any questions feel free to contact me at this address.
Look forward to seeing you there.
Stafford Lumsden
President, Seoul KOTESOL