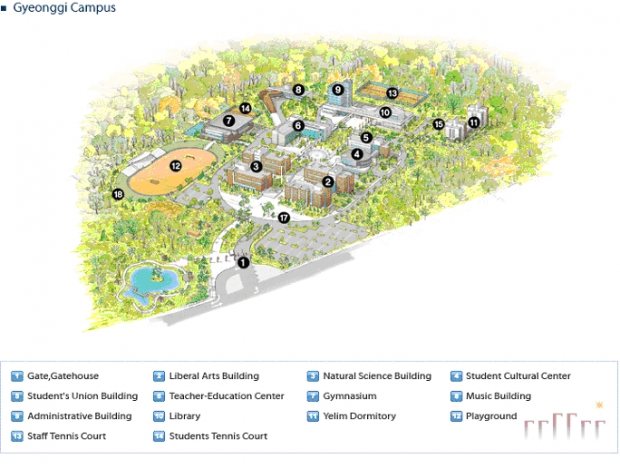 Google Maps with location of the venue (Gyeongin National University of Education – Gyeonggi campus (경인교육대학교 경기캠퍼스) http://tinyurl.com/o4r4ors
Transportation Directions
Please note that the nearest subway station is Gwanak station on line 1.  The campus is located a 20 minute walk / 5 minute bus ride / 3,000 won taxi ride from Gwanak station (관악역).  It is in Anyang city.   See street guide below.
If arriving by train, go out Gwanak station exit 2 and walk 1 minute to the main road.  Go through the pedestrian underpass to cross the street, going up the stairs on the right.  Once out of the underpass, there is a bus station immediately in front of you.  Bus 6-2 arrives every 5~10 minutes and will take you to the Gyeongin campus.  You can either get off the bus at the first stop next to campus and walk a short distance down a tree lined path to arrive near the Teacher-Education Center, or you can wait for the bus to loop around to the front gate of campus (it will stop there as it is the end of the bus line) and follow the campus map to the Teacher-Education Center).  If coming from Seoul or travelling by car, please go to the following link to get additional transportation directions, including direct bus lines and driving directions to campus. http://sub.ginue.ac.kr/english/index.html?menuno=1919
Campus Map
Workshops are usually held in building 6, the Teacher-Education Center / 교사교육센터. http://sub.ginue.ac.kr/english/index.html?menuno=1661 (or see top of page).