By Webeditor Yongin on May 27, 2017 - 8:32pm | Reads | News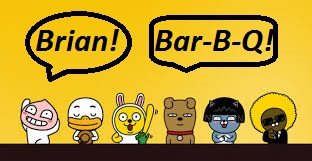 Yongin Chapter of KOTESOL continues in June with Second Saturdays!
On Saturday, June 10, come to "YOKO!" for a little bit of the regular and a little bit of the unusual. As with most workshop weekends, we will provide you with helpful information to take back to the classroom. We welcome Brian Raisbeck, who is coming to us from Seoul where he teaches high school conversation and writing. He will share about the usefulness of Kakao Talk as a tool in the classroom. Then, we will transition into an "unworkshop". (That's right, we don't even have time for an "unconference"!) Bring your questions and current challenges! We are here to help and those will be the topics of discussion.
Finally, to close the evening we will have our annual Bar-B-Q. This will give us even more time to for ideas, sharing and simply relaxing with good friends and fellow colleagues. Plan on joining us and bring a couple friends!
Presenter name: Brian Raisbeck
Title: Promoting English Written and Oral Fluency Using Kakao Talk
Time: 60 minutes
Abstract: With technology playing an integral role in the lives of my students, I have sought ways to bring technology into the classroom, not as an end in and of itself, but as a tool that can be used to augment lessons.
The Kakao Talk activity for this workshop was born out of research questions that arose when I began exploring ways to improve learner outcomes within my own teaching context. Specifically, I wanted to improve written and oral fluency among my students. Additionally, I wanted to provide learning opportunities outside of regular class time given the confines of the exceptionally limited number of contact hours I have with students.
Attendees will participate in the workshop using their smartphone and the Kakao Talk application, the most ubiquitous texting app in Korea. Participants should be prepared to share their Kakao IDs and partake in a brief, language activity using the app. This will enable participants to see the assignment from the learner's perspective and gain insight into the logistics that go into running the activity.
To fully participate, attendees must have an active Kakao ID, a smartphone, and the Kakao Talk app installed on their phones prior to the workshop. A laptop with "Kakao for PC" installed will also work for the activity.
Presenter bio: Brian Raisbeck currently teaches English conversation and English writing at a high school in Seoul, South Korea. He holds a BA in History from the University of California at Santa Cruz and a MAT in TESOL from the University of Southern California.
DIRECTIONS: 
From Suwon Metro Station (Bus Lines and Metro)
From GiHeung Metro Station (Bundang Line to Yongin EVERline)
From Seoul by Bus (Bundang and Suji, too!) 
From Seoul by Metro
From Yongin Bus Terminal (Bus #10 or a quick taxi)
Kangnam University Station is the metro stop. Exit out of either Exit 1 or 2. The front entrance to the university is directly across from the station, just one block away. After you go through the huge arch at the entrance, you can go up the hill to the left to the Shallomkwon Building.
Information about the Yongin Chapter KOTESOL: 
Korean Language Education Association (KOTESOL) Gyeonggi - Yongin Branch is a meeting for all who work with English Language Teaching (ELT).  English as a Foreign Language (EFL) teachers from Yongin, throughout the Gyeonggi Province ane beyond are warmly welcomed.
Regular workshops will take place on the second Saturdays of most months. Starting in March, and additional dates for April, May, June, September, October, and November. The November date is the Chapter Conference. 
Meetings are held at Kangnam University. The location at Kangnam University Shallomkwon Hall, Room 204.  Address: 111 Gugal-dong, Giheung-gu
한국어 교육 협회 (KOTESOL) 경기 용인 점은 영어 교육 (ELT)을 담당하는 모든 사람들을위한 모임입니다. 경기도 전역의 용인 영어 교사가 따뜻한 환영을받습니다.
정기적 인 워크샵은 대부분의 달 중 두 번째 토요일에 진행됩니다. 3 월에 시작하여 4 월, 5 월, 6 월, 9 월, 10 월 및 11 월의 추가 날짜. 11 월 날짜는 챕터 컨퍼런스입니다.
강남 대학교에서 회의가 열립니다. 강남 대학교의 사록원 홀 204 호. 기흥구 가각동 111 번지