By Webeditor Yongin on July 3, 2017 - 11:12am | Reads | News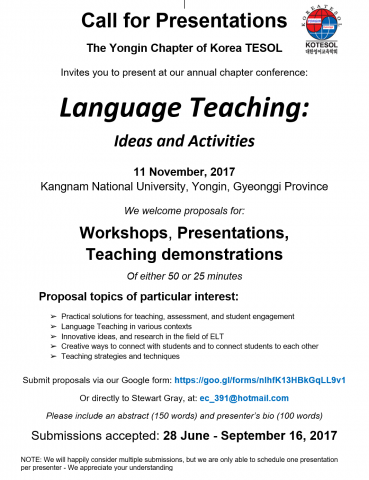 Yongin KOTESOL Chapter Annual Conference Seeks Presenters
Online Form Click HERE.
The Yongin KOTESOL Conference Committee invites presentation proposals for our 2017 annual conference, to be held on November 11th at Kangnam University, in Yongin City, Gyeonggi-do. 
Our theme this year is straight forward: "Language teaching: Ideas and Activities" 
WHO do we want to present?
We are looking for presenters to help us continue our tradition of engaging, insightful conferences at which teachers can develop their skills and pick up inspiring ideas that will contribute to their teaching. You can be a "newbie" or have a great amount of experience with speaking to groups of any size.
WHAT exactly should the presentation/workshop be about?
We are all here to learn and grow. We are happy to consider presentations and workshops on all topics. Our standard presentation/workshop time is 50 minutes, though we will also consider proposals for 25 minute talks. We kindly ask that if you choose the 25 minute option, that you partner with someone and make two well-connected topics to equal a 50 minute session.
If you would like to give a presentation or workshop, please  go to our online form by clicking here. Another option is to send a completed proposal by email. If you desire this, please reach out to Stewart Gray, Conference Chairperson, at ec_391@hotmail.com.
All information must be sumbitted by September 16th.
We will inform you of our decision in early October.
Many thanks,
Yongin KOTESOL