Online Maps options
Address in Korean:
서을특별시 용산구 청파동 2가 9-22 인재관 우140-132
From Line 4 (Light Blue)  Sookmyung Women's University Station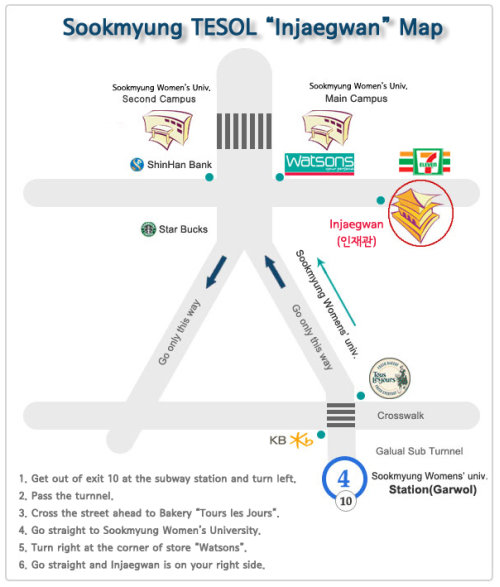 Go out Exit 10 of Sookmyung Women's University Subway Station line No. 4. Walk through the tunnel under the railway line, cross the main road, and walk up the hill towards the university.
Keep going up the hill until you come to a set of traffic lights. There is a Watsons on the right corner. Turn right into the lane,Saem-gil, and walk uphill 150 m until you reach the Sookmyung Professional Center (Injaegwan). It's a new grey stone building on the right, across the lane from a 7 Eleven convenience store. Look for signs designating what room the workshop will be held in.
Note: The Sookmyung Professional Center is not on the main campus. If you reach the main campus, you have gone too far up the hill.