By Webeditor Yongin on February 11, 2017 - 10:55am | Reads | News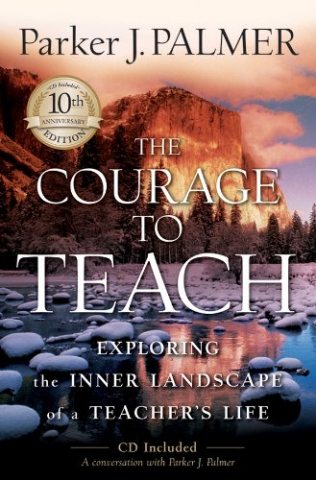 The Yongin Chapter of KOTESOL would like to sponsor a 4-part teacher-renewal seminar featuring Parker Palmer's "The Courage to Teach". Usually our seminars feature experienced presenters who offer many very good ideas on how and what to teach. This is a little different.
As a result, this series aims to:
Explore the inner landscape of a teacher
Refocus on the connection between our own identity and integrity as it relates to the learning process.
Create a safe space for professionals on the front lines
Share our 'universe' with other professionals
Discuss the possibilities for student-centered, holistic education in contexts that are often far from ideal. 
The seminar is not for everyone. It is for people who have more questions than answers and who want to share their questions. This Teacher Renewal Seminar is for those who often feel something is missing or that they could do more but don't know what. It doesn't answer the how or the what to teach. It just suggests, and explores, the possibilities and gives consideration that why we teach is just as important. 
Deep learning takes time, so we will break our journey into 4 one-day sessions punctuated by "brown bag" lunch breaks (March, June, September, December) at Kangnam University in Yongin.
Signing up and Contact Information: "Tip" Terry Landoll - landooll.terry[at]gmail.com
Pre-registration is required on a first-come basis (limited to 15). To express interest, please drop us an email at landoll.terry(at)gmail.com. "Courage to Teach" is available in Korean translation  (가르칠  수 있는  용기) but everyone should anticipate some personal sharing in English. All are welcome, whether tutor, academy, middle/high school or university teacher. Fees are limited to a materials charge (book fee). There will be a short organizational meeting following the regular Yongin KOTESOL Chapter workshop on Saturday, March 11, 2PM to answer questions, set our schedule, and finalize registration.
(Stay up to date by visiting our chapter webpage, https://koreatesol.org/yongin)
Our facilitator and co-learner is Tip Landoll, who has spent more than 25 years teaching everyone in Asia, from kindergarten to university, from zen monks to corporate executives. He is also a Quaker for whom the inward journey has also been the outward journey. Tip presently teaches in the American Studies Department at Daejin University.
For a brief look and further consideration: http://www.couragerenewal.org/courage-to-teach/#book