By Webeditor Daegu on January 14, 2016 - 12:12pm | Reads | News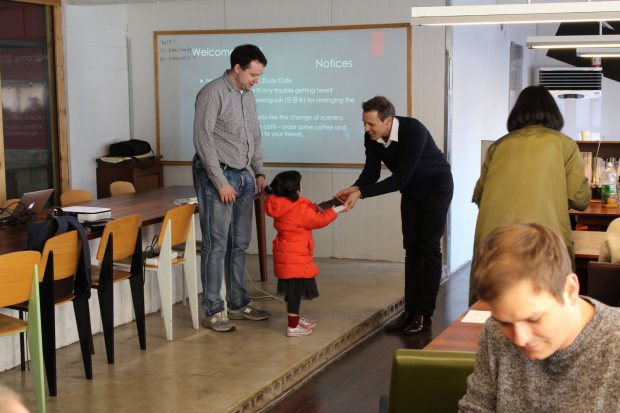 Congratulations are in order for Jeroen Root who was sworn in as president of the KOTESOL Daegu-Gyeongbuk Chapter at the monthly workshop meeting on Saturday, January 9th, 2016.
Jeroen Root is currently a Visiting Professor at Kyungpook National University in Daegu. He holds a Master's in TESOL from the University of Auckland, New Zealand, and his professional interests include second language reading and writing, project-based learning, assessment, and gifted education as well as reflective practice and teacher development.
With the official handing over of the Robert's Rules of Order, Jeroen takes over from Dan Svoboda for 2016. Thanks go to Dan for all his hard work in 2015! Dan will continue working with us in 2016 as the chapter secretary.
(Special thanks to Ella Svoboda, the official Daegu-Gyeongbuk Chapter Princess, for helping out during the ceremonial transfer of Robert's Rules of Order.)
---
2016 Daegu-Gyeongbuk Chapter Officers:
President: Jeroen 'Chop' Root

Vice President: Dieter Knowle

Membership Coordinator: Deborah Tarbet 

Treasurer: Kirsty Clausen

Web-Editor: Crystal Hecht

Secretary: Dan Svoboda

RP SIG

Coordinator: Josette LeBlanc 

Member-at-Large: Will Wickham​

Member-at-Large: Jo Jae-Young 
---