By Webeditor Daegu on September 15, 2014 - 7:49pm | Reads | News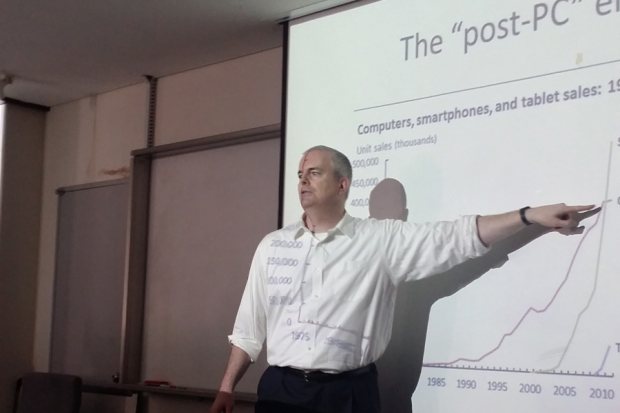 After the hot summer break, followed almost immediately by Chuseok, the Daegu-Gyeongbuk KOTESOL Chapter got back on track with our monthly workshop on Saturday 13th September. This time featuring two presenters: KNU professor Michael Kealey on the topic of 'Mobile Assisted Language Learning (MALL)', and Daegu University's Pat King on 'Motivational Strategies for English Language Teaching'.
In this workshop, Michael gave us a brief history lesson leading up to the current state-of-the-art in MALL with a hint of what to expect in the not-too-distant future. Additionally, there was much interest and discussion in the potential of using students' own devices with the variety of learning apps available today.
In Pat's presentation, participants were first treated to some yummy gifts before being treated to some stirring motivational speeches from classic movies – illustrating the difference between intrinsic and extrinsic motivation. Pat also shared ideas supported by research on motivating our students from his studies.
Overall, this workshop was packed with more information than this brief review can do justice to, so Michael and Pat have both kindly provided their slideshows (see links below).
Thanks again to everyone who joined us for the workshop and we look forward to seeing you at the next workshop on October 4th - feel free to invite along your friends and co-workers!