By Webeditor Daegu on November 2, 2014 - 8:26pm | Reads | News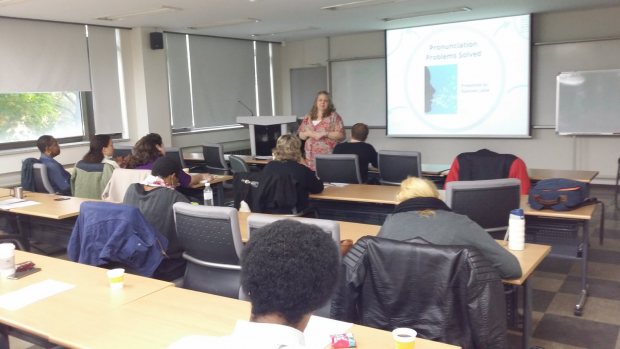 Thanks go to Kasham Laîné of Daegu University who presented at the November workshop on Saturday 1st on the topic of pronunciation. Kasham (pronounced exactly as it looks!) drew on her experience spanning over 10 years in the ELT field including time spent specifically teaching pronunciation for the armed forces in Korea.
In this workshop, Kasham elicited a great deal of participation from the attendees who shared their experiences identifying the unique challenges that Korean students face when learning English pronunciation. This led into discussion on common approaches to teaching pronunciation and some potentially more effective methods such as a  'Listen-Think-Speak' approach. Kasham also encourages English teachers and learners to start thinking about the mechanics involved in producing the required sounds. To this end, Kasham demonstrated a variety of activities and techniques that can help, including: mirroring, feeling the jaw move, and even using rubber bands!
Overall, this was an engaging, interactive workshop from a veteran pronunciation educator and I came away with many new ways to approach pronunciation in the English classroom.
Thanks go to everyone who joined in and extra thanks go to Kasham who has kindly provided her worksheets (see .pdf files below) and a link to her presentation: http://prezi.com/owkj8qvrajs-/daegu-gyeongbuk-kotesol-nov-14-presentation/
We look forward to seeing you at the next workshop on December 6th – remember to tell your friends and co-workers!