By Webeditor Daegu on May 11, 2014 - 9:28pm | Reads | News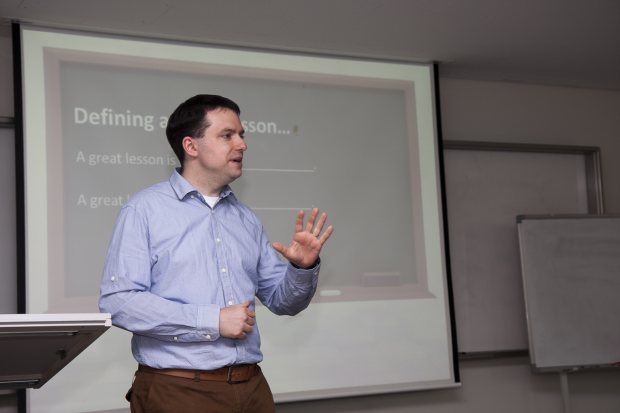 Due to the long weekend in the first week of May, the Daegu-Gyeongbuk KOTESOL chapter assembled on the second Saturday in May for a highly interactive and engaging presentation by Dan Svoboda of Daegu Catholic University.
With his MA in English Literature and years of experience teaching all ages, Dan's presentation entitled 'What Makes a Great Lesson?" had me initially expecting a 'magic bullet' that would miraculously transform my future classes.  However, in a very adroit manner,  Dan didn't simply prescribe quick fixes. Instead, by asking engaging questions, he soon had the participants themselves reflecting on their own experiences and sharing ideas on what makes a lesson 'great'.
In this workshop, participants were encouraged to consider the content, students, methods, classroom, teachers, and other factors (see Dan's presentation attached below) which resulted in a wonderful opportunity for reflection and sharing experience – particularly as one table of four participants had a combined teaching experience spanning 59 years! With such a broad range of knowledge to draw on, this workshop was a great opportunity to share pedagogic philosophies and to reflect critically on our teaching assumptions.
Those who enjoyed Dan's workshop are also encouraged to join the Reflective Practice Special Interest Group that meet on the third Sunday of every month. Visit their homepage for more information, here: http://www.koreatesol.org/content/reflective-practice
Thanks again go to Dan Svoboda and everybody who made the workshop so successful with their active participation. I'm already looking forward to the next meeting – see you there!