By Webeditor Daegu on January 17, 2016 - 6:42pm | Reads | News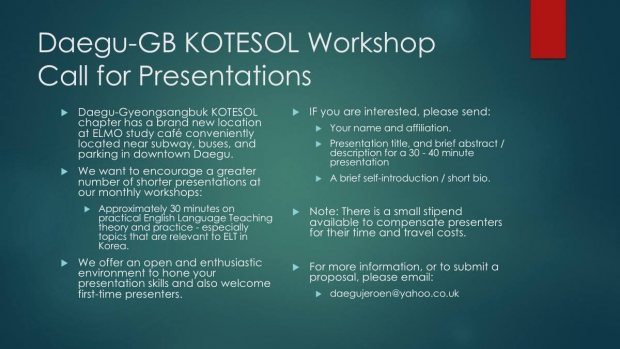 Daegu-Gyeongsangbuk KOTESOL chapter has a brand new location at ELMO study café conveniently located near subway, buses, and parking in downtown Daegu: http://place.map.daum.net/20465371
We want to encourage a greater number of shorter presentations at our monthly workshops: approximately 30 minutes on practical English Language Teaching theory and practice - especially topics that are relevant to ELT in Korea.
We offer an open and enthusiastic environment to hone your presentation skills and also welcome first-time presenters.
IF you are interested, please send:
- Your name and affiliation.
- Presentation title, and brief abstract / description for a 30 - 40 minute presentation
- A brief self-introduction / short bio.
Note: There is a small stipend available to compensate presenters for their time and travel costs.
For more information, or to submit a proposal, please email:
daegujeroen@yahoo.co.uk