By Webeditor Daegu on March 13, 2016 - 6:10pm | Reads | News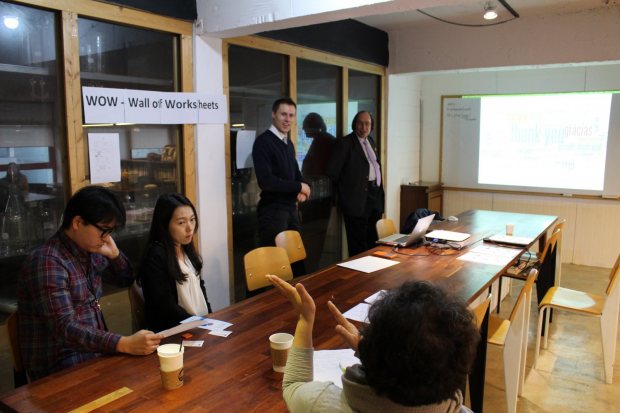 Last weekend, Daegu-Gyeongbuk KOTESOL members trekked over to Dongseongro in Downtown Daegu to join our monthly workshop at Elmo Study Café despite the exhaustion of back-to-school week and the less than favorable weather conditions. It must have been because they were interested in what Dr. David Shaffer has experienced throughout his long career teaching English in Korea, which he began in the 1970s.
Attendees enjoyed the side by side comparisons of teaching in English in Korea then and now that Dr. Shaffer presented during his lecture English Education in Korea: Looking Back, Looking Forward (See attachment at the bottom of this page). After the presentation, there was a short Q&A session followed by a group brainstorming session during which attendees came up with their predictions about the future of English education in Korea. Attendees were very passionate about sharing their hopes and concerns about the future of the industry.
In the second half of meeting, we held our swap-shop. Several members shared worksheets and activities that could be adapted to members' varied classrooms. Because this portion was so successful, we hope to make it a regular part of our monthly workshops in the future.
The next Daegu-Gyeongbuk KOTESOL workshop will fall on Saturday, April 2nd and the topic will be related to reflective practice. Be sure to subscribe to our newsletter or check back on the KOTESOL website for more details.