By Webeditor Daegu on January 15, 2016 - 5:30pm | Reads | News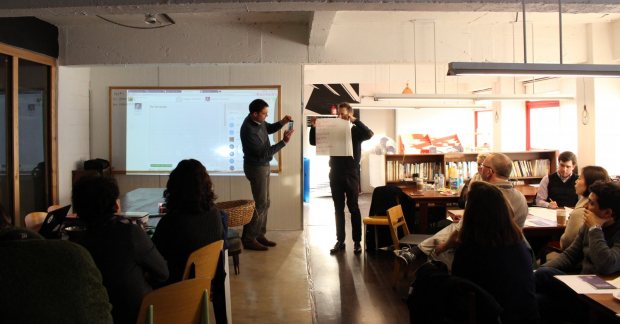 The Daegu-Gyeongbuk KOTESOL Chapter successfully rang in the new year last Saturday, January 9th, with a new location, fresh faces, and the welcoming of our new chapter president, Jeroen Root. Along with enjoying two engaging workshops given by presenters Jeroen Root and Will Wickham, everyone had a great time networking and learning about opportunities such as upcoming conferences, our local special interest group, and how to better connect with other Daegu-Gyeongbuk KOTESOL members.
The meeting was held at Elmo Study Café in order to make the workshop programs more accessible to new and current members--which must have been a good choice because our average attendance almost tripled! We are so pleased to have seen so many familiar faces along with new, fresh ones. We hope to see you all throughout the year and have decided to continue using this space for your convenience.
To kick off the meeting, 2015 Chapter President Daniel Svoboda, along with his beautiful daughter, Ella, presented Jeroen with Robert's Rules of Order as a way of ceremoniously turning over the title. Jeroen proceeded to welcome everyone to the new space and gave a short speech about his hopes for the upcoming year. Afterwards, he conducted a workshop on professional development and attendees came up with their own PD plans for 2016.
The second half of the meeting was conducted by Will Wickham from Daegu University of Education. Will introduced SeeSaw: The Learning Journal, a free mobile app for sharing conversations, videos, and other materials as a class. After a short introduction, attendees accessed the program through their mobile phones and proceeded to use the tool as a class, uploading materials and reviewing the available functions together. The room discussed the pros and cons of the app and how teachers could effectively utilize it in the classroom.
Finally, Jeroen wrapped up the event with some information on upcoming conferences such as the National Conference, the Gwangju-Jeonnam Regional Conference, the KAPEE Conference, and excitELT. Members were also invited to our Facebook and Twitter pages for more chances to connect. After the workshop, some of the attendees gathered for some pizza and IPAs down the street which led to more networking and sharing. We hope that this is a regular part of our monthly meetings in 2016.
On behalf of the Executive Board, I would like to thank everyone again for coming out and supporting the Daegu-Gyeongbuk Chapter last Saturday. We are thrilled so many were able to join and are continuing to connect through our social media pages. For those of you who were not able to join, you can still check out the slides which have been posted as PDFs at the bottom of this page. We hope to see you all when we continue our regular schedule in March.
Happy New Year!
-Crystal Hecht, Daegu-Gyeongbuk Chapter Web-editor
PS. Feel free to join our Facebook group to post comments, tag yourself in the workshop photos, and add some photos of your own.