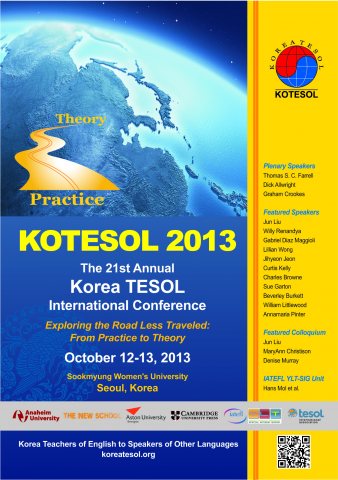 Date:
Saturday, October 12, 2013 (All day)
to
Sunday, October 13, 2013 (All day)
Archive Copy.
Errata & Supplements
There have been some additions and changes to information in the Conference Program Book.
The Supplement booklet is available here.
You can find the errata (current 11 October 5pm) here.
---
Pre-Registration has now closed.
Attendees can register on-site October 12-13, 2013
Onsite Registration
50,000 Members
75,000 Non-members
30,000 Students (undergraduates only)
CASH ONLY, Credit Cards are NOT Accepted
(Registration fees approved by National Council: January 13, 2013)
---
Important Venue Information
This year's International Conference is again at Sookmyung Women's University, Seoul.
However, unlike previous years the conference will be held on the so-called "Old Campus" in the Myungshingwan building. For those attendees who have been to conferences in previous years TURN RIGHT at the top of the hill, NOT LEFT.
---
The KOTESOL 2013 International Conference is a forum for educators to share their ideas, innovations, experience, and research findings in English language teaching (ELT). This year, the Conference will be exploring the actual and the desired roles of classroom practice in informing ELT and SLA theory. This is reflected in the Conference theme:
Exploring the Road Less Traveled: From Practice to Theory
We are planning a conference that will have people returning to their workplace with practical applications, useful experiences, and fresh ideas.