Online Maps options
From Line 4 (Light Blue)  Sookmyung Women's University Station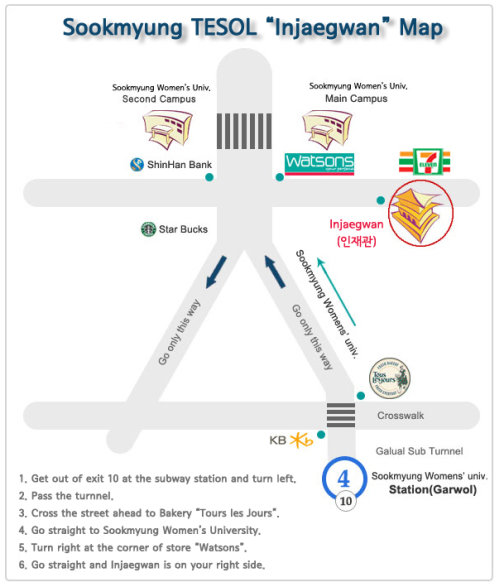 Go out Exit 10 of Sookmyung Women's University Subway Station line No. 4. Walk through the tunnel under the railway line *(Line 1 Dark Blue - see below), cross the main road, and walk up the hill towards the university.
Keep going up the hill until you come to a set of traffic lights. There is a Watsons on the right corner. Turn right into the lane,Saem-gil, and walk uphill 150 m until you reach the Sookmyung Professional Center (Injaeguan). It's a new grey stone building on the right, across the lane from a 7 Eleven convenience store. Workshops are in Room 105 on the first floor.
Note: The Sookmyung Professional Center is not on the main campus. If you reach the main campus, you have gone too far up the hill.